Job Killers
2017 Job Killer List
The California Chamber of Commerce has identified 27 job killer bills to call attention to the negative impact that these measures would have on California's job climate and economic recovery if they were to become law.
CalChamber will periodically release job killer watch updates as legislation changes.
"Economic growth and job creation are the keys to making California a great place to live, work and do business," said Allan Zaremberg, President and CEO of the California Chamber of Commerce. "The bills on this year's job killer list are a threat to our state's future prosperity and our quality of life. The goal of the job killer list is to remind California policymakers to keep their focus on the paramount issue affecting their constituents—job creation and prosperity for all."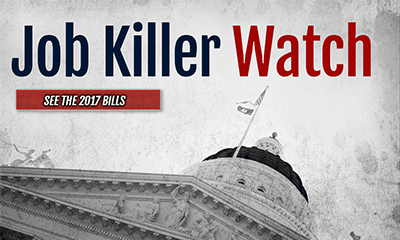 Readers are encouraged to track the current status of the job killer list on www.cajobkillers.com or by following @CAJobKillers on Twitter.
Overview
Each year the California Chamber of Commerce releases a list of job killer bills to identify legislation that will decimate economic and job growth in California. The CalChamber tracks the bills throughout the rest of the legislative session and works to educate legislators about the serious consequences these bills will have on the state.
Related News
Action Alerts
AB 1209 (Gonzalez-Fletcher) Employers: gender pay differentials – Bill Page

October 3, 2017, 11:02 pm

SB 63 (Jackson) Unlawful employment practice: parental leave – Bill Page

October 3, 2017, 10:57 pm

SB 33 (Dodd) Contracts for goods and services – Bill Page

October 2, 2017, 5:42 pm
Previous Years